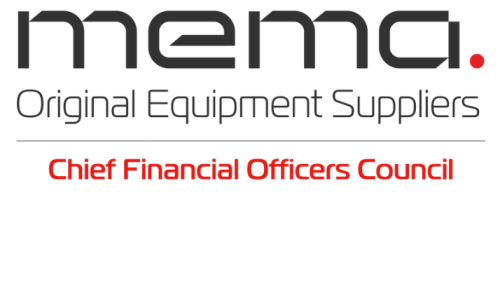 Contact Information
Mike Jackson
The CFO Council tackles common financial management issues within the supplier industry. Members explore a wide range of strategic risk and compliance issues. Our discussions revolve around issues such as vehicle production, supplier capacity, benefits strategies, tooling audits and material markets.
Recent Areas of Focus:
Managing Treasury in an Era of Disruption
Strategic Dynamics and Global Disruptors in the Automotive Industry
Trade & Tax Policy Change: Strategies & Implications
Health Plan Cost Control in An Era of Increasing Regulation
Third-Party Intelligence
Implementing the New Revenue Standard for Automotive Entities
Cyber Crimes
Membership Benefits
Networking groups rank as one of the greatest benefits of MEMA membership. 
Recurring meetings provide a regular opportunity to discuss issues of common concern with other executives in similar roles.
Members gain confidence and clarity and the support they need to be successful in the long term.
Meetings build powerful community — featuring timely topics, relevant issues, and real conversations with other executives. 
Members learn best practices from their peers through open roundtable discussions and council surveys.
Surveys are generated at the request of members on topics that directly affect their roles and responsibilities. 
Eligibility
Membership is available to supplier finance executives of MEMA Original Equipment Suppliers member companies.
Annual Membership: $1,100
Member Companies
A list of current council members
Member Contacts
Connect with current council members