Intellectual Property Committee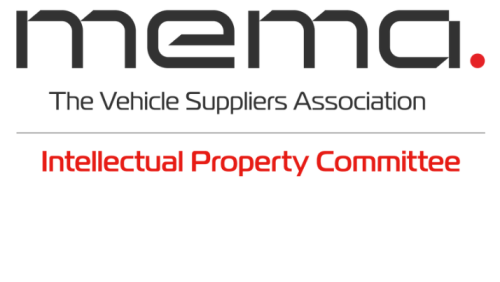 Upcoming Meetings
Contact Information
Liz Goad
The IPC's purpose is to advance the business interests of members by engaging the broader IP community and government officials and working with them to protect intellectual property rights.
IPC members with an interest or focus on IP protection meet on a regular basis to discuss current issues in IP protection and learn about, exchange ideas on, and discuss market challenges regarding areas that impact patents, copyright, trade dress and other intellectual property. The group has a common goal of planning the annual IP forum to provide relevant and interesting content for the IP community and grow the IPC's reach and influence. 
Advisory Group
The IPC relies on a group of supplier leaders to provide direction and support and serve as a sounding board for MEMA government advocacy issues.
Chair - Max Faistenhammer, Brand Protections / Security Manager, DRiV
Vice Chair - Bob Stewart, Manager of Aftermarket Service Support and Global Brand Protection, AC Delco / General Motors
Vice Chair - Antun Peakovic, Director, Intellectual Property North American Automotive Center, Schaeffler
Advisory Group - Diane MacDonald, Legal Counsel, NTN Bearing
Advisory Group - Todd Pleiness, Senior IP Counsel, MAHLE 
Advisory Group - Eliza Crowther Boenigk, Associate Counsel, Standard Motor Products
Recent Areas of Focus:
Counterfeit Goods
IP Policies and Trends in Various Global Regions
E-tailing, E-tailers, Online Marketplaces
Government Agency Resources and Strategies — DOJ, ICE, FBI, USPTO, IPR Center
Trade Show IP Policies
What's Happening — roundtable discussions of violator activities and best practices for addressing violations
Technology Solutions
Committee Meetings
The IPC meets the second Wednesday of every month (unless otherwise noted) to discuss current IP issues, hear from committee selected and recruited speakers, and plan the Aftermarket IP Forum. Please contact Liz Goad if you are interested in participating.
Membership Benefits
Members enjoy many benefits by participating in the IPC. A full list is available here.
Significant discount for IPC members and additional employees from IPC member companies to the IP Forum (Non-Member Price: $499 / IPC Member Price: $249).
Access to monthly meeting content and discussions with Aftermarket peers.
Potential additional conversations with government entities and e-tailers.
Discounts to other MEMA events.
Access to information and events from IPC industry partners.
Eligibility
Membership is open to all MEMA members in our OE and Aftermarket groups (formerly AASA, HDMA, MERA or OESA). 
Individuals must have responsibility for managing brands, trademarks, trade dress, patent protection, anti-counterfeit activities or related areas. 
IPC members meet regularly to discuss advocacy efforts, have open discussions, including conversations with members of Congress, learn from guest speakers, and develop the agenda, content and direction for the annual Aftermarket IP Forum. They are expected to:

Attend 75% of monthly meetings or notify MEMA if unable to attend.
Attend the MEMA Aftermarket IP Forum (at the IPC discounted rate).

Contribute to and participate in the monthly meetings by securing speakers, contributing to the discussions, moving IPR initiatives forward, and assisting with the development of the Aftermarket IP Forum.
Members for this committee are recruited by current members or MEMA Aftermarket Suppliers staff and must receive approval to join.
Annual Membership: Free
 
Apply Now
Get the most out of your MEMA membership