Breadcrumbs
Ahead of the Curve: May 2023 Industry Insights
Date: May 03, 2023
A Case for Cautious Optimism in 2023 and a Caveat
It's hard to believe we are a third of the way through 2023. The global mobility sector continues to drive forward and the supplier ecosystem has been an instrumental catalyst to help facilitate this dramatic change. Even as many market headwinds persist, a case can be made for some cautious optimism.
Strong Consumer spending is helping to raise the U.S. economic Outlook for 2023  
Citing data from Wells Fargo, the U.S. economic outlook is fragile, reflecting low growth rates over the next two years. The January outlook reflected weak U.S. gdp growth of just .8% in 2023 followed by .3% growth in 2024. Even as inflation has eased from recent highs, the outlook has faced additional concerns with calls for a mild recession in the back half of 2023. In part, worries surfaced within the banking sector following the collapse and bailout of Silicon Valley Bank and Signature Bank. Fortunately, regulators responded swiftly and helped to stabilize a tenuous situation. Consumers shrugged off concerns with spending growth tracking at 4.4% through 1Q 2023, contributing to an upward revision to U.S. gdp of 1.2% in 2023, before falling to just .2% in 2024.   
US auto sales are forecast to increase by 1.0 million units per year in 2023 and 2024
Light vehicle sales ended 2022 at 13.7 million units in 2022 and are poised to climb to 14.7 million units in 2023 and 15.7 mil. units in 2024. Consumer vehicle demand remains strong and is being helped by growing vehicle availability and greater supply chain stability. Despite higher interest rates, current U.S. sales forecasts reflect one million units of incremental sales growth in 2023 and 2024.
Premium pricing represents rich vehicle content levels for suppliers in 2023.
Inflation continues to moderate yet remains elevated. The annual U.S. inflation rate was 5.0% for the 12 months ended March, following a rise of 6.0% in the previous period. Thankfully, we have also seen meaningful price declines across a range of automotive raw materials. Through February, new vehicle pricing remains robust with average transaction prices rising 5% from 2022 levels, to approach historic highs near $49,000, according to Cox Automotive.
Light vehicle demand has remained undersold for the past three years due to supply constrains
Even if retail sales slip, the fleet market consisting of commercial, governmental and daily rental volume represents a market of millions of vehicles where pent up demand remains strong, due to limited vehicle availability.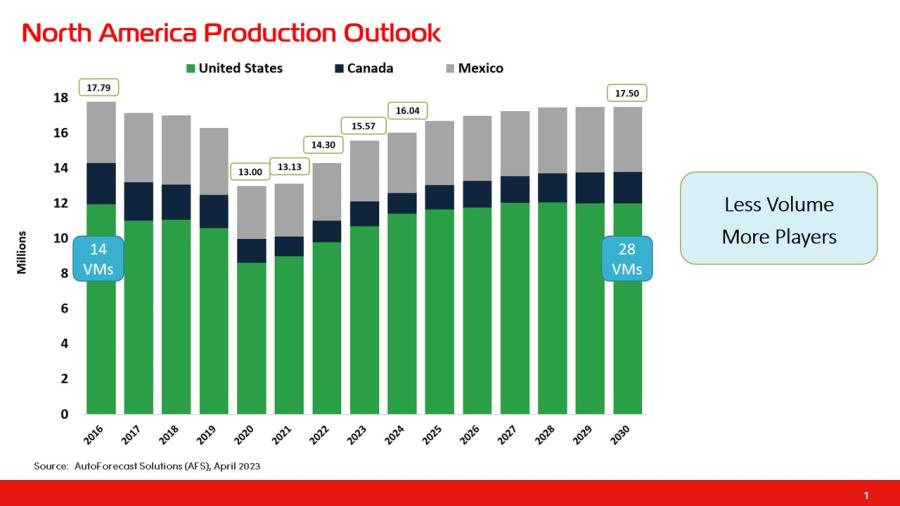 As supply chains improve, output in North America will Drive Vehicle Volume Growth          
Vehicle production hit 14.3 million units in 2022 and will add nearly one million units in 2023. Forecasts vary from 15.1 million to 15.6 million units in 2023, contributing to materials volume gains in 2023 and 2024.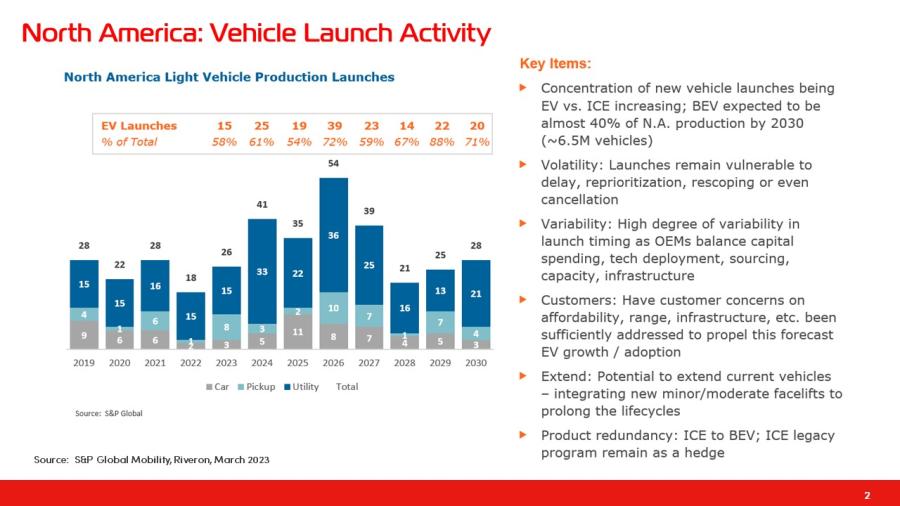 New Program Launches To Showcase Innovation
Launch activity was stifled in 2022 at just 18 entries yet is poised to rebound in the coming three years, helping to reward supplier development efforts in both ICE and BEV programs.      
Billions in Capex has been invested to support the shift to Battery Electric Vehicles    
Suppliers are driving innovation to make BEVs possible, helping to increase scale and raise competitiveness. Suppliers need to conduct their due diligence, yet with so many program opportunities, suppliers can carefully identify their preferred targets that align with their capabilities and mutual objectives.  
Suppliers continue to bolster agility in the face of market volatility. While there are many positive factors to leverage in the near term, a key caveat and headwind stems from pending labor talks, as UAW and Unifor contracts expire in September. These are expected to be contentious and potentially disruptive. Manufacturers and therefore suppliers must at a minimum craft a strike preparation plan to highlight steps under a range of strike impact scenarios. Look for release schedules to reflect higher build rates in 2Q and 3Q to establish a prebuild of vehicle inventories. These negotiations will certainly require our best efforts to mitigate negative outcomes.