Breadcrumbs
AMECA Competes as the New LeafMark™ Registrar for Friction Material Environmental Certification
Date: July 25, 2022
RESEARCH TRIANGLE PARK, N.C.AND WASHINGTON, D.C. – Automotive Manufacturer Equipment Compliance Agency, Inc. (AMECA) announced their new program as a third-party registrar for the Motor and Equipment Manufacturers Association's (MEMA) LeafMark™ program this month.  
  
MEMA, through its division the Automotive Aftermarket Suppliers Association ("AASA"), along with the Brake Manufacturers Council ("BMC"), a council of AASA, has developed the LeafMark™ Certification Program which is designed to certify that brake friction materials manufactured by third parties have passed certain environmental composition standards. 
 
About Friction Material Registration 
 
AMECA also introduced their new web portal (www.ameca.org) to certify your brake friction material for environmental compliance. 
 
AMECA's new web portal allows for quick submission of data and test report requests for self-certification. The new database design also allows for the speedy remedy to common errors and typos. It gives the manufacturer full control of their data submission with complete transparency throughout the certification process. Components of brake friction material are regulated by some states, most notably California and Washington. These states have strict registration and use requirements with severe penalties for non-compliance. AMECA is now a 3rd party registrar who can register materials for California and Washington.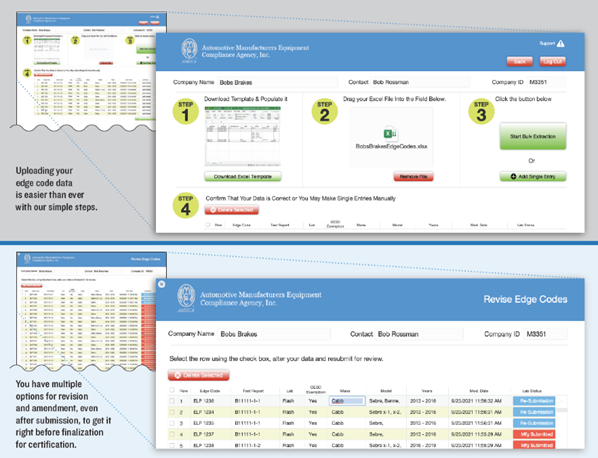 AMECA's web portal data submission process and editing dashboard display. (pictured) 
 
AboutAMECA 
For over 25 years AMECA has been committed to the vehicle safety business.  To further that goal AMECA became an A2LA Certification Body in 2017. AMECA is the only organization with written agreements with state agencies to provide safety equipment registration, including brake friction material, to the VESC (Vehicle Equipment Safety Commission) standards.  AMECA is custodian of all VESC documents. AMECA's ISO-Certification Program is only intended for the best manufacturers.  Not every manufacturer who applies will be granted certification.  
All ISO-Certification program documents are available free on the AMECA website.
 
For more, visit www.ameca.org or email info@ameca.org.   
MediaContact: Kevin M. Wolford, 202-898-0145, Kevin.Wolford@ameca.org 
 
About MEMA 
Since 1904, the Motor & Equipment Manufacturers Association (MEMA) has been the voice of the automotive and commercial vehicle supplier industry, the largest manufacturing sector in the United States. Across the entire range of new vehicle innovation—from autonomous to zero-emissions technologies—vehicle suppliers are leading the way. Our member companies conceive, design, and manufacture the original equipment systems and technologies that make up two-thirds of the value in every vehicle. Member companies also supply the aftermarket with the parts that keep millions of vehicles on the road, fueling international commerce and society's need for transportation. And all of our members' work is done with a focus on public safety and the environment. 
MEMA is the parent organization of four affiliate associations: Automotive Aftermarket Suppliers Association (AASA), Heavy Duty Manufacturers Association (HDMA), MERA – The Association for Sustainable Manufacturing, and Original Equipment Suppliers Association (OESA). MEMA has offices in Southfield, Mich., Research Triangle Park, N.C. and Washington, D.C. Learn more about our organization, our members and the great vehicle supplier community at MEMA.org.  
 
About AASA 
AASA (www.aftermarketsuppliers.org) exclusively serves manufacturers of aftermarket components, tools and equipment, and related products, an important part of the automotive parts manufacturing industry which supports 871,000 American jobs. AASA is a recognized industry change agent – promoting a collaborative industry environment, providing a forum to address issues and serving as a valued resource for members. AASA is the light vehicle aftermarket division of the Motor & Equipment Manufacturers Association (MEMA). "AASA, The Voice for the Automotive Aftermarket Supplier Industry"