Breadcrumbs
Dana Inc. Receives MEMA Aftermarket Suppliers Diversity, Equity, and Inclusion Company Award
MEMA Aftermarket Suppliers presented three annual awards for advocacy and diversity, equity, and inclusion at the 2023 AAPEX event in Las Vegas
Date: November 09, 2023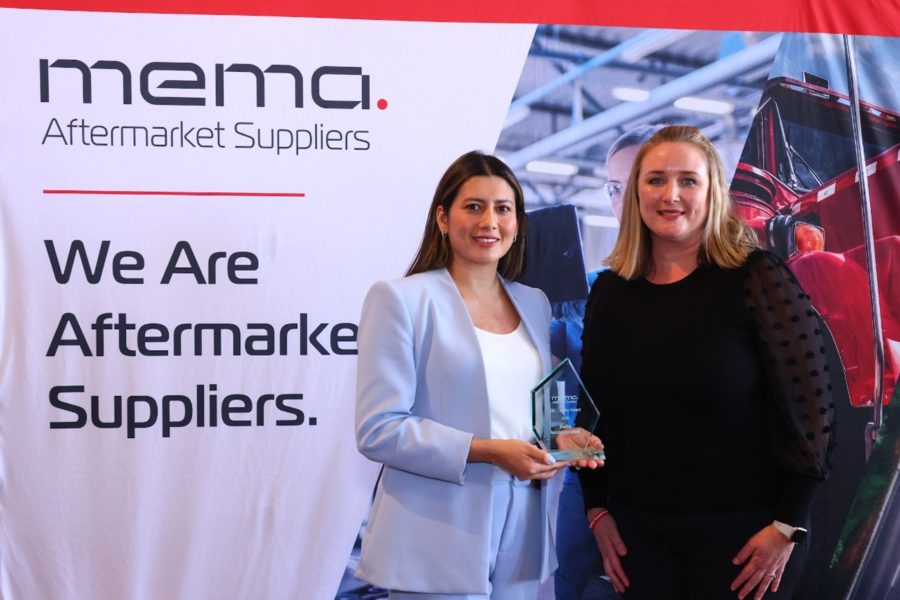 RESEARCH TRIANGLE PARK, N.C. – Dana Inc. was honored with the 2023 Diversity, Equity, and Inclusion (DEI) Company Award by MEMA Aftermarket Suppliers on November 1, 2023, at the AAPEX show in Las Vegas.
"Dana has embraced the ethos of DEI within their company and surrounding communities, promising a more diversified path forward for the aftermarket," commented Megan Gardner, executive director, marketing and communications, MEMA, The Vehicle Suppliers Association. "Dana's dedication to DEI across their organizational fabric is not only groundbreaking but is generating significant outcomes that enrich the aftermarket and diversify their team. Congratulations to the Dana team."
Dana has firmly embedded DEI into its core values, challenging conventional norms with policies such as their Supplier Diversity initiative. Their commitment is evident in their diverse workforce recruitment, engagement of diverse suppliers, and efforts to involve employees in key decisions. Furthermore, Dana's DEI metrics, governed by a specialized council, ensure accountability, consistency, and growth. Dana provides mandatory DEI education for senior managers, collaborates with key diversity-focused organizations, and continuously measures their DEI impact. These endeavors have earned Dana accolades such as "World's Most Ethical Companies 2023" and "America's Greatest Workplaces for Diversity 2023," showcasing their dedication to a truly inclusive workplace.
"We're honored to receive the MEMA DEI Champion award at AAPEX. Diversity, equity, and inclusion are core to Dana's operations and values," commented Vanesa Badillo, Senior Manager, Talent Development, who received the award on behalf of Dana. "We challenge norms, nurture inclusivity, and build on our diverse strengths. This award both recognizes our DEI achievements and supports our future commitment to every Dana employee's success."
Also honored during the award presentation were Tammy Tecklenburg, Founder & CEO, dott., who was awarded the MEMA Aftermarket Suppliers DEI Leadership Award (Individual) and Marc Blackman, chief executive officer at Gold Eagle, who was named the 2023 MEMA Aftermarket Suppliers Advocacy Champion.
About MEMA Aftermarket Suppliers 
MEMA Aftermarket Suppliers exclusively serves manufacturers of aftermarket components, tools and equipment, and related products, an important part of the automotive parts manufacturing industry which supports over 900,000 American jobs in all 50 states. MEMA Aftermarket Suppliers is a recognized industry change agent – promoting a collaborative industry environment, providing a forum to address issues, and serving as a valued resource for member companies. Members represent all areas of the aftermarket including light vehicle, commercial vehicle, and remanufacturing. MEMA Aftermarket Suppliers is a membership group within MEMA, The Vehicle Suppliers Association. 
MEMA is the leading North American trade association for vehicle suppliers, parts manufacturers, and remanufacturers. Automotive and commercial vehicle suppliers are the largest manufacturing sector in the United States and lead the way in new vehicle innovations. MEMA has been the voice of the vehicle supplier industry since 1904. Its more than 1,000 members are Strong by Association. 
Members supply the aftermarket with the parts that keep millions of vehicles on the road, fueling international commerce and meeting society's transportation needs. MEMA members are committed to safety and sustainability. 
MEMA has offices in Southfield, Mich.; Research Triangle Park, N.C.; and Washington, D.C. Learn more at mema.org/aftermarket-suppliers.