Breadcrumbs
MEMA, AASA Host Data Access Policy Panel on Capitol Hill
Date: May 15, 2019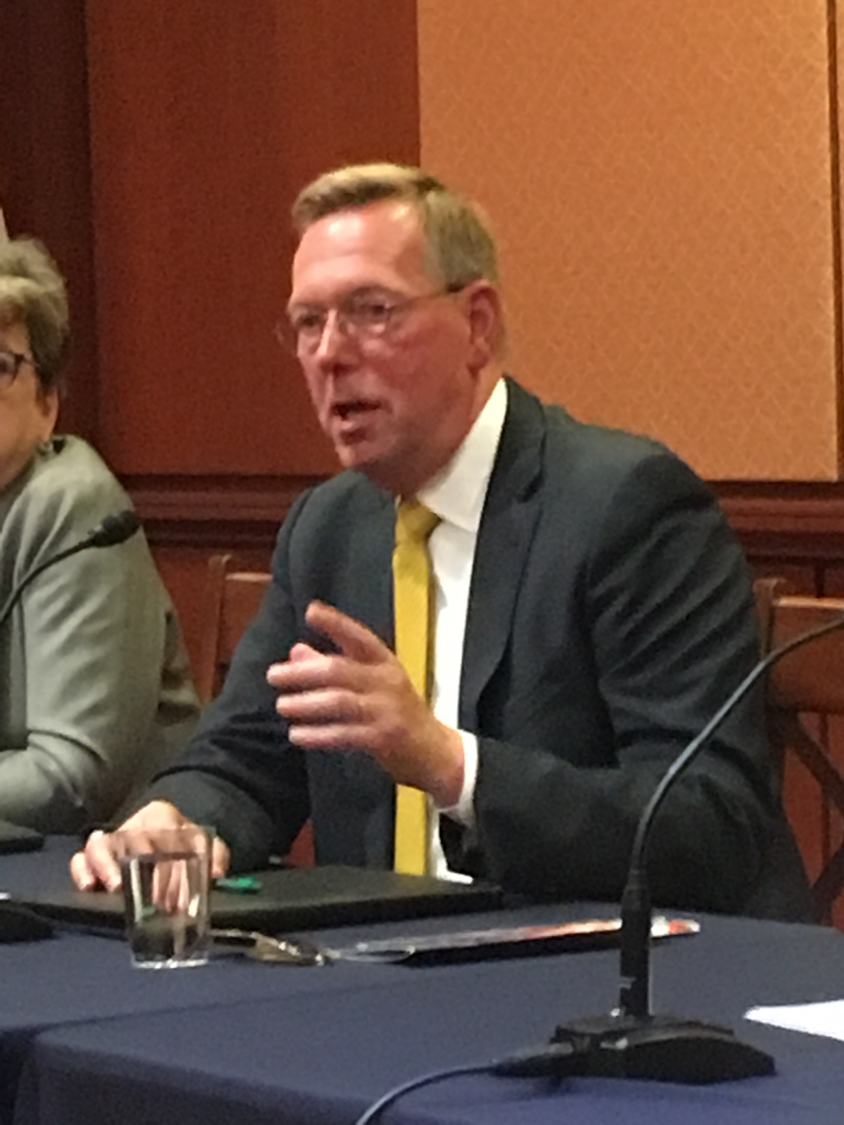 WASHINGTON, D.C. -- The Motor & Equipment Manufacturers Association (MEMA) and the Automotive Aftermarket Suppliers Association (AASA), the light vehicle aftermarket division of MEMA, held a high-level policy panel discussion here today that addressed the complexities and emerging issues related to access to data collected by cars.
 
The panel discussion, "Who Owns Your Car's Data," was held at the Capitol Visitors Center. More than 20 legislative staff members and industry leaders attended. A lively question-and-answer period was held after a 45-minute panel discussion.
 
Panelists included MEMA President and CEO Bill Long, who also serves as AASA president and COO; Auto Care Association President and CEO Bill Hanvey; Marc Fleischaker, Arent Fox chair emeritus, and MEMA Vice President of Government Affairs Ann Wilson.
 
"What is at risk is motorists' freedom of choice and retaining their right to decide where they want their vehicle repairs," said Bill Long. "Lack of access to vehicle data threatens that right. It should be the motor vehicle owner's choice. They should have the right to decide."
 
The timely event is part of the on-going effort by MEMA and AASA to educate policy makers about access to motor vehicle data and the risks that limiting access would create. Many consumers and legislators alike do not realize that their cars are collecting data and that restrictions to data access may result in losing the ability to choose a repair shop. MEMA and AASA support policies that allow access to vehicle data and software that promote affordability, convenience and a competitive market for vehicle servicing. The May 15 discussion aimed to highlight some of those policies and outline concerns that should be considered as lawmakers move forward with an infrastructure bill.
 
The event is part of MEMA's successful Policy Breakfast Series launched in 2017. The series aims to highlight and explain the complexities of critical issues that affect the motor vehicle supplier industry. In recent months MEMA has addressed topics including tax reform, the new North American trade deal, workforce development and emission standards. With these events, MEMA and AASA has earned a leadership role for the industry and has established a meaningful voice on issues in Washington.
 
About AASA
 
AASA (www.aftermarketsuppliers.org) exclusively serves manufacturers of aftermarket components, tools and equipment, and related products, an important part of the automotive parts manufacturing industry which supports 871,000 American jobs. AASA is a recognized industry change agent – promoting a collaborative industry environment, providing a forum to address issues and serving as a valued resource for members. AASA is the light vehicle aftermarket division of the Motor & Equipment Manufacturers Association (MEMA). "AASA, The Voice for the Automotive Aftermarket Supplier Industry"
 
About MEMA
 
The Motor & Equipment Manufacturers Association (MEMA) and its four specialized divisions comprise a leading international trade association in the fast-changing mobility industry. Representing vehicle suppliers that manufacture and remanufacture components, technologies, and systems for use in passenger cars and heavy trucks, MEMA serves as a critical bridge between high-tech capabilities in new vehicles –such as autonomous vehicles and vehicle connectivity—and the "nuts and bolts" of vehicle manufacturing. MEMA works at state, federal, and international levels to ensure that the marketplace and public policy support the development of advanced, transformative technologies that enable safer, smarter, and more efficient vehicles. MEMA's members are represented through four divisions: Automotive Aftermarket Suppliers Association (AASA), Heavy Duty Manufacturers Association (HDMA), Motor & Equipment Remanufacturers Association (MERA), and Original Equipment Suppliers Association (OESA). For more information on how MEMA is leading transformation in the mobility industry, visit www.mema.org.