Breadcrumbs
MEMA, OESA Join Vice President Pence in Detroit to Discuss USMCA
Date: April 25, 2019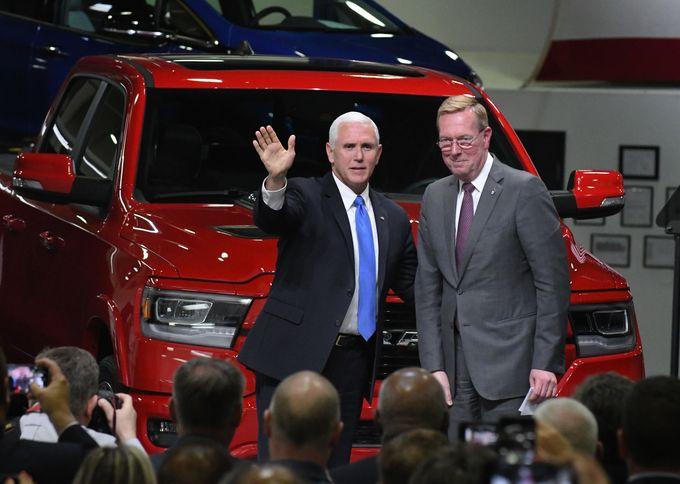 The Motor & Equipment Manufacturers Association (MEMA) and one of its four divisions, the Original Equipment Suppliers Association (OESA), hosted a senior-level automotive panel discussion and welcomed United States Vice President Mike Pence at Motor City Solutions in Taylor, Michigan, on April 24.
MEMA President and CEO Bill Long introduced Vice President Pence, who had come to the Detroit area to garner support for the proposed United States-Mexico-Canada Agreement (USMCA). The USMCA is expected to go before Congress later this year. Vice President Pence spoke to the audience of about 200 people representing the motor vehicle and parts supplier industries.
The supplier industry has been unified in its argument that a strong North American trade deal and a stable supply chain are essential to allow U.S. businesses to remain competitive in a global marketplace.
"Our meeting with Vice President Pence took place at a critical time for USMCA. MEMA agrees the industry needs a strong and viable North American Trade agreement and we continue to work closely with the administration to gain clarity to important concerns on steel and aluminum tariffs, as well as on regional and labor value content. Doing so will enable suppliers to fully realize the administrations objectives of job growth and a strong foundation for U.S. manufacturing competitiveness, globally" said Long. "This meeting is a prime example of the power of MEMA's and supplier's relevance to the U.S. economy.  In this way, and many more, MEMA and our four divisions, OESA, HDMA, MERA and AASA, are advancing the business interests of suppliers."
In a statement before the event, OESA President and CEO echoed the need for a stable North American trade agreement: "We are pleased to see the administration engaging with automotive manufacturers and suppliers. The success of the industry and the continued employment of hundreds of thousands of Americans depends on a strong, functioning North American supply chain." 
Before Vice President Pence addressed the crowd, motor vehicle parts suppliers held a panel discussion on the importance of a trade deal. In panel included OESA supplier-members: Joe Anderson, chairman and CEO of Tag Holdings; Jim Kamsickas, president and CEO of Dana Corporation; Don Walker, CEO, Magna International; and OEM representatives Lisa Drake, vice president, global powertrain and purchasing, Ford Motor Company, Everett Eissenstat, vice president, global public policy, General Motors;  and Scott Thiele, head of NAFTA purchasing and supply chain, Fiat Chrysler Automobiles. The meeting also included representatives from the Detroit Regional Chamber of Commerce and the Michigan Manufacturers Association.
(Photo by Daniel Mears, Detroit News)