Breadcrumbs
Missouri Governor Recognized for His Contributions to Growing Jobs in the Motor Vehicle Industry
Date: October 07, 2016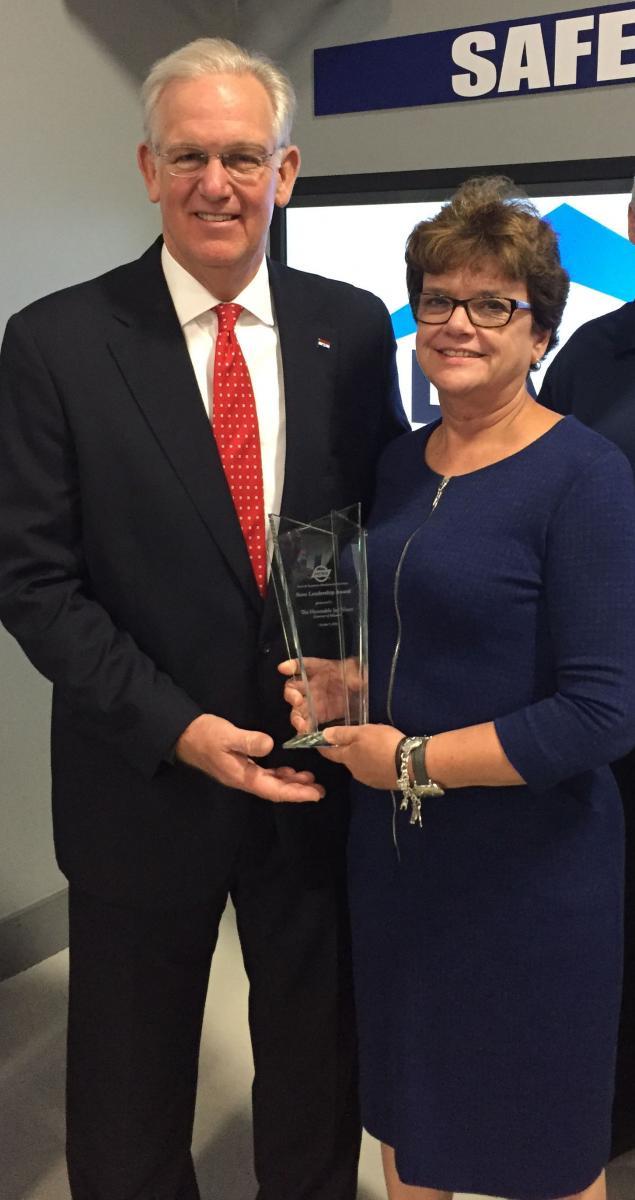 Governor Jay Nixon honored by the Motor & Equipment Manufacturers Association for making the mobility industry and job creation a priority during his seven years in office
October 7, 2016 – The Motor & Equipment Manufacturers Association (MEMA) has selected Missouri Governor Jay Nixon (D-MO) for the 2016 MEMA State Leadership Award. The award was presented Friday, October 7, at the Columbia, MO, facility of MEMA member company Dana Incorporated (NYSE: DAN).
(MEMA) represents more than 1,000 companies in the mobility industry that manufacture or remanufacture components and systems for use in motor vehicles. Motor vehicle component manufacturers are the nation's largest manufacturing sector, and Missouri is a leading state for supplier jobs, with well over 16,000 employees engaged in the research, development, design, testing, and manufacturing of motor vehicle parts and advanced vehicle technologies.
"From the making of high-quality automotive parts to the assembly of some of the best-selling trucks and vans in the world, Missouri has become a re-energized hub of automotive production," Governor Nixon said. "We've got great workers and companies with a can-do attitude, and they are ensuring that vehicles and parts will be made here in Missouri for generations to come."
"Governor Nixon has shown us how visionary leadership can have an impact on real jobs," said MEMA President and CEO Steve Handschuh. "We're pleased to recognize his promotion, leadership, and record of support for our industry."
Governor Nixon has made the motor vehicle industry and job creation his top priority during his tenure. As a result of his initiatives, motor vehicle manufacturers and suppliers have invested more than $ 2 billion in Missouri, with 24,000 motor vehicle-related jobs and more than 16,000 direct automotive and supplier jobs. In addition, 64 automotive plant and parts suppliers in Missouri have announced expansions in recent years, including the recently announced $39-million-dollar expansion at the Dana facility in Columbia, Missouri, expected to create 135 new jobs. MEMA members have some 65 facilities in Missouri. Including Bosch, Continental, Dana, Faurecia, Federal Mogul, Haldex, Johnson Controls, Inteva, Lear, Magna, Spartan Light Metal, SRG, and Tenneco.
After taking office in 2009, his first act as Governor was to create an Automotive Jobs Task Force to make recommendations on creating new investments on behalf of the industry.
The automotive industry is a $4 billion industry in Missouri, representing 18 percent of Missouri's exports, and automotive suppliers, manufacturers, and dealers are located in nearly every Missouri county. Under Governor Nixon's leadership, the Task force recommended that Missouri create an environment supportive of new automotive technologies and enhance state resources dedicated to providing auto-related workers with the skills required in a rapidly-changing global industry. In addition, the task force recommended that state resources be used to assist automotive companies in diversifying their sales, upgrading their technological capabilities, increasing their long-term viability, and focus efforts on identifying reuse opportunities for vacant automotive production facilities.
In 2010, Governor Nixon called a special session of the General Assembly to support and strengthen Missouri's automobile manufacturing and supplier industry. At that time, Governor Nixon introduced the Missouri Manufacturing Jobs Act, which was designed to curb job losses in the industry and position Missouri to compete for next-generation auto jobs. The law allowed manufacturers who make substantial capital investments in production capacity and hire people eligible to receive incentives up to $15 million a year. The bill passed with bipartisan majorities in the state House and Senate. In 2013, Missouri also created its premier incentive program Missouri Works, lowering the threshold for smaller businesses to access benefits for creating as few as two jobs. This program has been instrumental in helping several dozen auto supply companies leverage expansions, resulting in job retention and creation throughout the state.  
Governor Nixon has also been a strong supporter of additional funding for education programs to focus on science, technology, engineering, and math skills. These are critical skills needed as today's workforce produces advanced vehicle technologies that improve safety, reducing emissions, and increasing mobility through connected vehicles. Over his administration, nearly $98 million in training dollars has been deployed to help hundreds of companies implement next-generation workforce training programs. Overall, these companies have been able to train nearly 300,000 workers as well as hire and train an additional 10,000 workers for newly created jobs.
MEMA Senior Vice President Ann Wilson presented today's award. Previous MEMA State Leadership Award recipients include: Gov. Steve Beshear (D-Ky.) in 2015; Gov. Rick Snyder (R-Mich.) in 2014; and Gov. Nikki Haley (R-S.C.) in 2013.
About MEMA
The Motor & Equipment Manufacturers Association (MEMA) and its four specialized divisions comprise the leading international trade association in the fast-changing mobility industry. Representing vehicle suppliers that manufacture and remanufacture components, technologies, and systems for use in passenger cars and heavy trucks, MEMA works to ensure that the marketplace and legislative and regulatory environment support the development and implementation of new technical capabilities transforming the automotive industry, including autonomous vehicles and vehicle connectivity. By directly employing more than 734,000 Americans and generating a total employment impact of 3.6 million jobs, MEMA's member companies are the largest sector of manufacturing jobs in the U.S.  MEMA's members are represented through four divisions: Automotive Aftermarket Suppliers Association (AASA), Heavy Duty Manufacturers Association (HDMA), Motor & Equipment Remanufacturers Association (MERA) and Original Equipment Suppliers Association (OESA). For more information on how MEMA is leading transformation in the mobility industry, visit www.mema.org.