Breadcrumbs
OESA Board Member Testifies on Behalf of MEMA on the Negative Effects of Proposed Tariffs
Date: September 26, 2018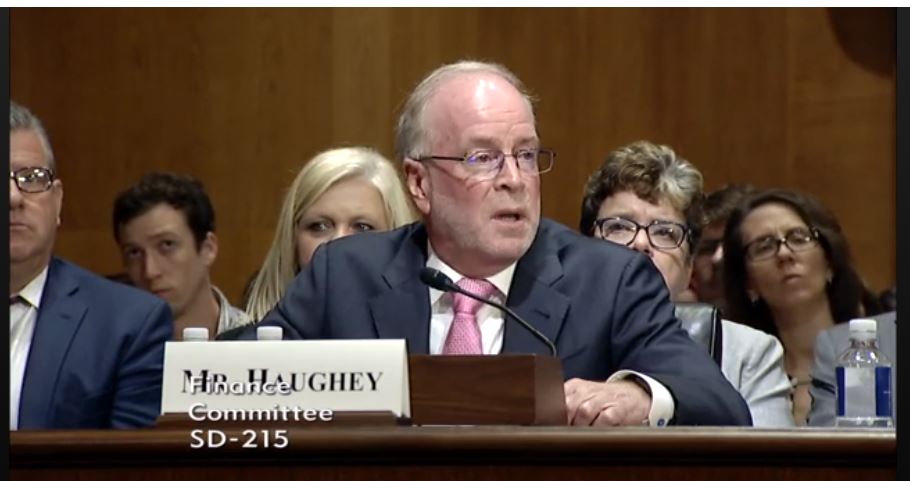 President and CEO of North American Stamping Group Michael Haughey testified September 26 before the Senate Finance Committee during a hearing focused on the impact of Section 232 tariffs on the U.S. automotive industry. The Section 232 investigation into motor vehicles and auto parts was ordered by the Trump administration in May. Haughey spoke on behalf of the Motor & Equipment Manufacturers Association (MEMA) and he serves as a board member of MEMA's Original Equipment Suppliers Association (OESA) division.
"We applaud the administration and the Republican Congress for the tax cuts. We applaud the administration for the decrease in business regulations we have enjoyed. We applaud the administration for attempting to achieve a level playing field in trade. NAFTA is critical to the success of the North America automotive manufacturers competing on a world market. However, we do not believe any tariffs are the right approach to promote American competitiveness," Haughey said in his testimony.
"Our industry is in turmoil. Last year we were on a bridge from the internal combustion engine to the electric car. However, in the last six months we have come off the rails. Our turmoil includes: the administration's proposed changes on CO2 regulations that are currently unresolved; the administration's proposed changes on CAFÉ regulations that are currently unresolved; section 232 steel and aluminum tariffs already implemented; other section 232 tariffs proposed; section 301 tariffs proposed; what looks like an inevitable trade war; rising oil prices; rising interest rates; auto manufacturer profits decreasing; electric automobile tax credits expiring; car discount incentives reaching unstainable levels; and increased forecasting of a recession based on the preceding points," he added.
Haughey concluded that tariffs could increase vehicle prices by as much as $7,000 and result in 750,000 to 1,250,000 American automobile workers losing their jobs.
MEMA testified at a Commerce Department hearing in July and reiterated that tariffs would cost American jobs and set back the ability for U.S. businesses to compete globally.
"The importation of motor vehicle parts is not a risk to our national security," said Ann Wilson, MEMA senior vice president of government affairs during the July testimony. "However, the imposition of tariffs is a risk to our economic security, jeopardizing supplier jobs and investments in the United States."
 
"To put it bluntly, if we lose the opportunity to develop and manufacture new technologies in the U.S., we will have little opportunity to recoup these losses for a decade," she stated.