Breadcrumbs
Tenneco Inc. and Parts Warehouse Inc. Honored with First-Ever AASA Channel Excellence Award Presented by Epicor
Date: April 03, 2019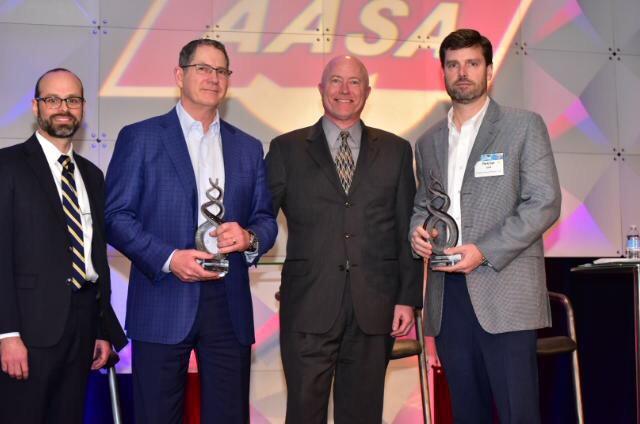 Channel partners recognized at 2019 AASA Vision Conference for their innovative work on a shared data analytics program
 
DEARBORN, Mich. – A shared data analytics program between Tenneco Inc. and Parts Warehouse Inc. (PWI), focused on inventory and sales optimization of Monroe® ride control components, garnered the first-ever Automotive Aftermarket Suppliers Association (AASA) Channel Excellence Award presented by Epicor. Joe Pase, IT executive director, Tenneco, and Fletcher Lord III, PWI vice president, accepted the award in a ceremony today at the 2019 AASA Vision Conference in Dearborn.
 
The AASA Channel Excellence Award was established to both recognize innovation and to encourage collaboration between suppliers and valued channel partners to drive aftermarket growth. Suppliers are innovators and the drivers of new technologies, but greater achievements are possible when suppliers and channel partners develop new products and new ways of getting the right part to the right place at the right time.
 
The Tenneco / PWI initiative began in April 2018, when Tenneco analysts noted that PWI's strut assembly sales were under indexing against market demand in its service areas. Tenneco sales representatives and members of its data analytics team met with PWI leaders to propose a collaborative inventory analysis and repositioning to grow PWI's share of the strut assembly category, reduce lost sales and improve margin performance. The project involved extensive use of shared data analytics and was completed in August 2018.
 
"Upon implementation of the resulting stocking strategies, PWI immediately experienced significant, sustained improvements in out-the-door sales, average unit sale, inventory turns and market share," Lord said. "We're very proud to have our joint efforts with Tenneco recognized with this AASA award."
 
"We relied on Tenneco's category expertise and proprietary market intelligence combined with an uncommon depth of insight provided by PWI and the Alliance headquarters team," Pase commented. "We commend AASA for establishing this award and promoting future efforts such as this in our industry."
 
The Tenneco / PWI project was one of three joint initiatives by automotive aftermarket companies selected as award finalists. The other finalists were: Brake Parts Inc. / Genuine Parts Co. and Gates Corp. / XL Parts. Short videos submitted by all the AASA Channel Excellence finalists were played today at the 2019 AASA Vision Conference and will soon be posted on the AASA website.
 
"We congratulate Tenneco, PWI and all the finalists for their outstanding projects and driving innovation in our industry," said Bill Long, president and CEO of the Motor & Equipment Manufacturers Association (MEMA) and president and COO of AASA, MEMA's light vehicle aftermarket division. "We look forward to the Channel Excellence Award continuing to grow and inspire further innovation and teamwork in our industry."
 
"It has been an honor for us to work with AASA this year in developing the Channel Excellence award," said Scott Thompson, senior vice president, automotive and business services, Epicor. "Epicor is proud of its role in encouraging and rewarding collaborative initiatives that benefit participants throughout the aftermarket value chain."
 
The 2019 AASA Channel Excellence Award Selection Committee included:
Rod Bayless, senior director, Industry Data Analytics, Epicor
Brian Cruickshank, director, University of the Aftermarket – Northwood University
Chris Gardner, senior vice president, AASA
Rick Guirlinger, partner, Schwartz Advisors
Tony Molla, vice president, Automotive Service Association (ASA)
Joe Pomaranski, president, Pomaranski Consulting
 
More information is available at the AASA Channel Excellence Award webpage or by contacting AASA Senior Vice President Chris Gardner at cgardner@aasa.mema.org.
 
Shown in photo: (Left to right) Paul McCarthy, AASA executive vice president and MEMA senior vice president, strategy, planning and information services; Joe Pase, IT executive director, Tenneco; Scott Thompson, senior vice president, automotive and business services, Epicor; and Fletcher Lord III, PWI vice president. 
 
About AASA
 
AASA (www.aftermarketsuppliers.org) exclusively serves manufacturers of aftermarket components, tools and equipment, and related products, an important part of the automotive parts manufacturing industry which supports 871,000 American jobs. AASA is a recognized industry change agent – promoting a collaborative industry environment, providing a forum to address issues and serving as a valued resource for members. AASA is the light vehicle aftermarket division of the Motor & Equipment Manufacturers Association (MEMA). "AASA, The Voice for the Automotive Aftermarket Supplier Industry"
 
About Epicor Software Corporation
Epicor Software Corporation drives business growth. We provide flexible, industry-specific software designed to fit the precise needs of our manufacturing, distribution, retail, and service industry customers. More than 45 years of experience with our customers' unique business processes and operational requirements are built into every solution―in the cloud or on premises. With this deep understanding of your industry, Epicor solutions dramatically improve performance and profitability while easing complexity so you can focus on growth. For more information, connect with Epicor or visit www.epicor.com.