Breadcrumbs
Why Every Supplier Needs an EV Strategy - Ahead of the Curve - November 2023
Date: November 01, 2023
Source: Mike Jackson, Executive Director, Strategy & Research, MEMA
In the ever-evolving automotive industry, it is crucial for each supplier to have a defined strategy for how to compete within the EV sector. Although the market for ICE entries will remain substantial for many years to come, active participation in the EV category is vital. The automotive industry is global and while regional differences exist, suppliers must ensure their strategies are global in scope.  Manufacturers are allocating massive investments to support the development of all-new EV entries and forecasts reflect massive growth in North American, with EV production reaching 7 million units by 2030, supported by nearly 140 nameplates.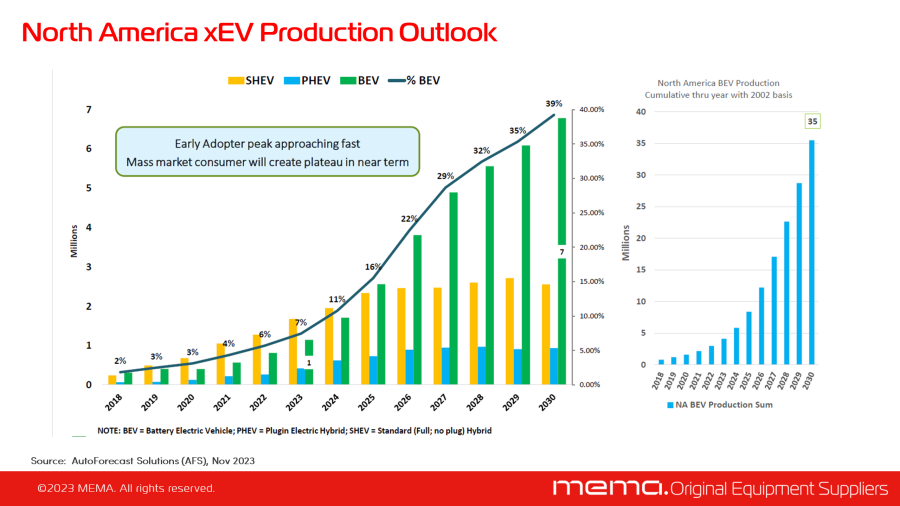 Engagement provides more than just a competitive edge, engagement in EV provides a hands-on understanding of knowledge gaps and skill shortages, while uncovering opportunities to add greater value to subsequent programs.
Each manufacturer has its own distinct strategy for pursuing electrification. This is especially challenging as program profitability is materially dependent on achieving economies of scale.
Even as Toyota holds a dominant position in hybrid powertrains, the OEM has exercised caution in expanding its full EV product portfolio, given the massive scope of these capital-intensive decisions and regional and global planning considerations. It is not enough to bring a viable entry to the market without showcasing unique and compelling product differentiation. After careful assessment, Toyota is now moving swiftly to augment its product portfolio with exceptional and thoughtful products, while revolutionizing its production methods to bolster future competitive advantage.
A remarkable transformation within the industry can be witnessed through the example of Tesla. Over the course of a decade, from 2010 to 2019, Tesla lost nearly $7 billion, as it made massive product investments and scaled operations. Tesla has since turned the tide in a dramatic fashion, posting an industry-leading profit of nearly $9,600 per unit in 2022. More striking is Tesla's ongoing appetite for innovation. The company is deploying a two-pronged strategy of attacking costs and slashing product pricing.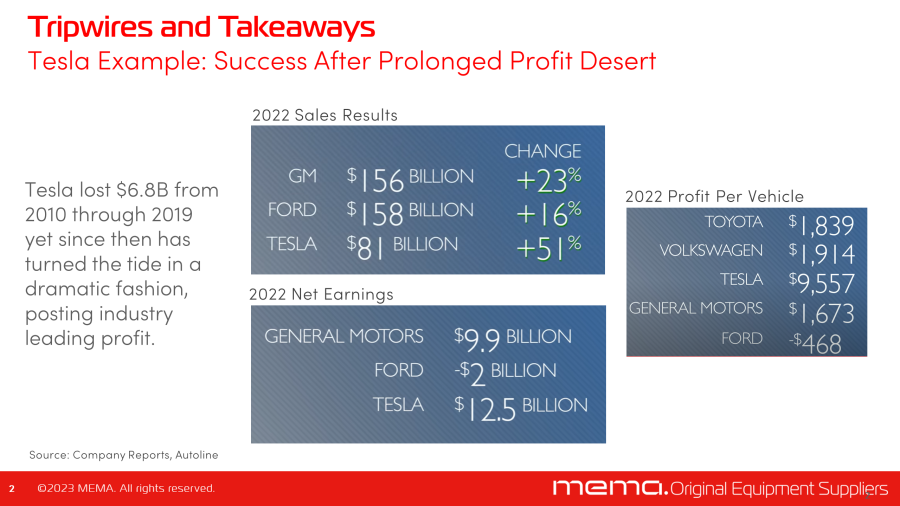 Robust margins create a window of opportunity for Tesla to experiment with new cost-saving approaches. Traditional OEMs' typical 5-7-year product lifecycle includes a mid-cycle refresh to update their offerings and offset sales declines due to perceived vehicle age. This steady-state manufacturing creates a 'low-touch' environment free from additional engineering costs, where quality is typically enhanced due to limited variability, and costs are held in check.
Tesla is willing to sacrifice some of its rich margin in the short term, knowing that scale works in the company's favor. It has aggressively cut product pricing to inflict pain on other market players that have yet to scale production volume to upend the business case of their competitors. Moreover, Tesla continues to explore a range of unconventional means to build vehicles, exploiting the fact that EVs are not subject to the same engineering specifications as internal combustion engine entries.
Simply put, in many cases, traditional components supplied to an EV program may be over-engineered and represent a cost penalty compared to purpose-built components and systems. Unsatisfied, Tesla's Elon Musk is ever eager to explore ways to transform the product and how the vehicle is manufactured and assembled. This same approach is being deployed by many Chinese OEMs, seeking to exploit their head start by refining their EV capabilities and scaling these advantages while market followers are still working to find their footing.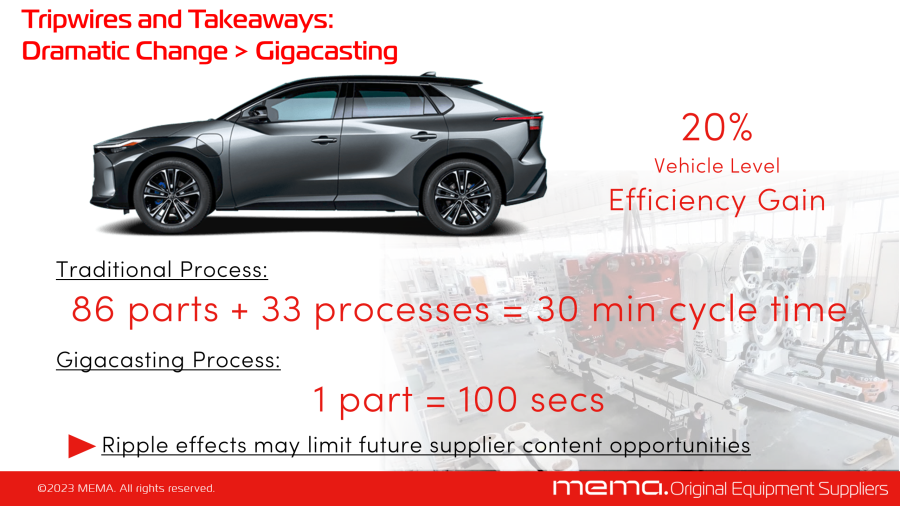 An extraordinary example of this endeavor is the giga-casting process, Tesla has worked diligently to reduce part count and complexity by replacing large combinations of systems with a large single part. Toyota, Volvo and many other OEMs are already working to emulate this approach. In one instance, Toyota was able to replace 86 parts and 33 processes into a single piece. This effort was condensed from an aggregate cycle time of 30 minutes into one part with a cycle time of just 100 seconds.
Suppliers must be aware of ever-changing technologies for both new products as well as build processes to ensure that competitiveness is maintained, if not expanded in this increasingly competitive industry landscape.