Breadcrumbs
Working Together Towards an Autonomous Future
AVs are all the hype — but their arrival should take a while.
Date: July 21, 2021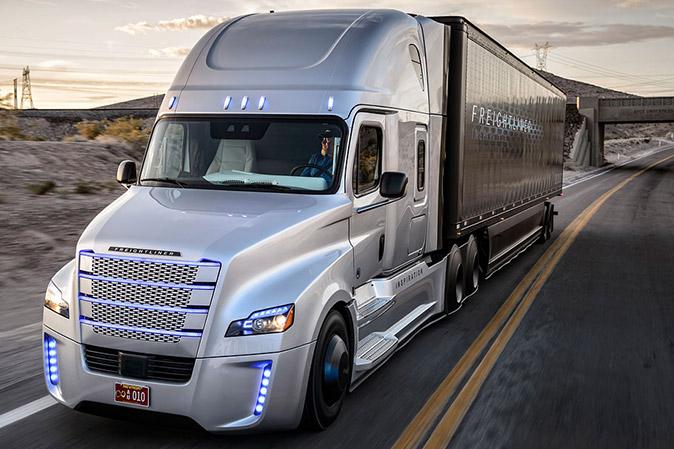 The trucking industry is an intricate, symbiotic network of commercial vehicle suppliers, original equipment manufacturers (OEMs), fleets and owner operators, aftermarket distribution outlets, and service providers. Any new commercial vehicle technology advancements need to be developed and integrated with this in mind, in a timely, well-executed, and highly socialized fashion.  
One may surmise from the surfeit of press coverage on autonomous vehicles (AVs) that we are on the cusp of an expedited and massive evolutionary overhaul. However — in my modest opinion — considering history and the scale of revamp necessary from an engineering, infrastructure, and human capital point of view, the hype doesn't warrant departure from the apt, cautious approach that is the normal course of business in our industry.
The Road to a Self-Driving Future
The entirety of the industry is working diligently on technologies to bridge the gap between a self-driving future and proper technological introductions that provide the best cost of ownership scenario while keeping a keen eye on driver safety and logistics optimization. Indeed, the road to a self-driving commercial vehicle network is longer than the press coverage would indicate. 
However, the building blocks to AVs are attributes that we all must support, including lower fuel consumption, lower maintenance and repair costs, transport logistics efficiency, wireless predictive maintenance, predictive route planning, driver alertness, uniform traffic flow, and powertrain optimization.
AV Does Not Necessarily Mean Driverless
In the quest towards these attractive attributes — to no one's surprise — OEMs, through partnerships with their suppliers, have been pushing the limits of innovative AV building block technologies for years. For example, in 2015 Daimler Trucks North America received the world's first official license of an AV vehicle in the U.S. with their debut of the Freightliner Inspiration Truck, a test bed platform to push the boundaries of driverless features.
However, what was missed in the press coverage (and following media stories) was that these commercial AVs, from the OEM perspective, were not solely engineered to remove the driver from the equation. The test beds were an exercise in testing technologies that would drastically cut accidents and dramatically enhance the overall safety experience for commercial vehicle operator. At the time, Freightliner stated: "An autonomous commercial truck is not a driverless truck; highly trained CDL drivers will remain in our trucks, and we are dedicated to creating the best-possible experience for them. Ultimately, autonomous operation will make operating a truck safer and more profitable."
Pushing Technology and Creating Jobs
Undoubtedly, commercial vehicle operators are the bedrock of the industry. As we have previously highlighted, there are more than 3.5 million truck drivers on the road, and the Census Bureau's statistics show that trucking is the most prevalent occupation in 29 of the 50 states. The industry is not only fundamental in meeting societal needs (delivering goods, services, and supplies), but it is also the number one job producer and economic wheel for the country.     
So how do AV technologies bridge the gap and fit in with the needs of society, gainfully employed truckers, and the logistics network? Pretty simple: Go back to the facts. A proper ramp of implementation of AV technologies will:
provide enhanced safety

facilitate driver recruitment

lower real cost of ownership

provide long-haul drivers a break by enabling auto-pilot controls
The replacement of truck drivers is, in my opinion, a story that is a long way from fruition. But OEMs, HDMA suppliers, and fleets will continue to push the boundaries in AV building block technologies that will unquestionably improve safety, improve efficiency, and lower total cost of ownership — a goal we can all support.